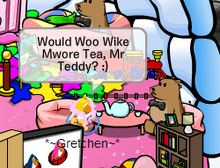 Toys in Club Penguin are directly related with toys in real life. Some are real items and others are imaginary.
Common item toys
Hand Items
Magic or Silver Wand
Sports balls (football, soccerball)
Wooden Puffle
Stuffed Puffle
Balloon Sword
Horse Rider
Tablet computers (e-readers)
Furniture Items
Puzzle Floor
Train set
Giraffe
Zebra
Hippopotamus
Tea Table
Princess Throne
Piñata
Drum Set
Princess Armoire
Pink Plastic Castle
Comfy Crab
Multi-ball
Penguin Gnome
Dance floor
Presents
Imaginary Items (Related with Real Life)
Barbie and Ken dolls
Baby Dolls
LEGO
Bicycles/tricycles
Toy boxes
My Little Pony figurines
Mini TVs 
Rattles
Pacifiers (called "Binkies")
Elmo merchandise
Teething rings
Plushies 
Disney toys/dolls
Stuffed bears (pandas, grizzlies, polar bears, etc)
Furbys (Extremely rare, but some have been spotted around pookies)
Teething Rings
Littlest Pet Shops (LPS)
Imaginary cartoon characters (i.e: Bloo from Foster's Home for Imaginary Friends, Elmo from Elmo's World/Sesame Street, etc)

Toys they, an older sibling or parent made (rarely)

Building or numbered blocks

Video game consoles (X-BOX, Playstation, Wii)
Trivia
Extremely rarely, the pookie will not take it out of the box; this may be beause they are collectors or they don't want younger siblings breaking or fooling around with it.
When a pookie gets into a fight with their wista, broder or any other pookie, their toys can get torn up, stolen or damaged (Mainly applies for stuffed animals.)
Sometimes, pookies, an older sibling or a parent will make a toy all on their own. This is rare however.