Stool
 (
School
in human language) is the pookie equivalent of Elementary/Primary School and a building that
pookies
attend to receive an education. It is usually held at the
Bookroom
, and sometimes at the
Puffle Lodge
. It can be also found in the
mumu
/
duh duh's
or another penguin's
igloo
. Now that there is a University, stool is sometimes held there, although it is not very common because the University serves as a
Middle School
,
High School
, and
College
/University most of the time. It is also inhabited by
preps
,
hoodies
, and
pookie haters
most of the time, of whom may be mean to your pookie(s).
Trivia
It occurs after Pre-School.
When pookies graduate from Pre-School and go here, they usually have hair already.
After pookies graduate Stool, they will go to Middle School, and become a middle.
Sometimes, there will be show and tell. Show and tell is when the pookie shows off one of their possessions (such as a Teddy Bear, a puffle, or maybe even a pet) and talk about it to the other pookies. Pets are usually not allowed because another pookie may have allergies.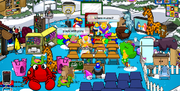 At stool the classes are usually math, reading, social studies, science, writing, lunch, recess, and sometimes a special period like show and tell. A pookie may also have playtime as a special period, depending on their age.
Recess is sometimes held at The Puffle Park. Pookies may choose to stay inside, however.
Some pookies have to wear school uniforms.
Sometimes, one of the pookies' mumu/duh duh will be the teacher. This is very common. Otherwise, a random teacher might be working there. If not, the pookies will go without a teacher and do independent work.