Kitty
150px
An example of a kitty

Species:

Felis catus (Feline/Cat)

Colors:

Gray, black, white, orange, yellow, or peach

Pookie Friendly:

Mostly
A kitty is a cat on Club Penguin.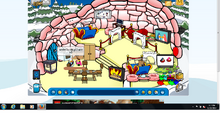 History
Kitties began appearing when the second Treasure Book came out, with the Kitty Kat Hat. Penguins pretending to be a kitty would typically be orange, pink, or yellow and wear the hat. Kitties grew in popularity around Earth Day 2011, when the Snow Leopard Costume came out. During the Puffle Party 2014 another cat hair style came out and so did a Cat Puffle costume, so more people pretended to be kitties.  Also cat ears came out, so more non-members were able to be kitties.
Trivia
A lot of pookies are allergic to kitties.
They usually don't get along with uppies.
Some kitties just want uppies to be their friend.
Most kitties dress in the Snow Leopard Costume or the orange kitty items from the Puffle Party in 2014.
Nowadays some pookies scream or get scared when they see a "kitty" wearing a snow leopard costume, because some pookies got used to the kitty cat ears and think that the snow leopard is actually a snow leopard.
The Kitty Lover Agency is trying to protect kitties from MELDs and kitty haters.
Some pookies dress as a kittiy for Halloween.
It's often difficult for kitties to get adopted because families are usually looking for uppies.
Most kitties, like uppies go pewp. The pewp is easy to clean, unlike uppie pewp. Though their pewp is more stinkier, it is easier to clean.