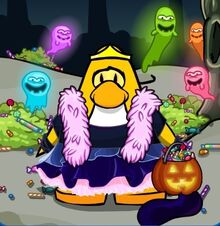 Halloween is a holiday, celebrated on the the 31st of October. On this holiday, young children often go trick or treating. Since Club Penguin has annual Halloween Parties, it has become quite an iconic time of the year for pookies.
Regular Pookie Traditions
Dressing up in Halloween Costumes.
Going trick or treating.
Watching Halloween special on TV.
Pretending to have lycanthropy (or some other supernatural condition).
Trivia
Rarely, pookies ask their mumu if they can watch the 'Elmo/Teddy Town/Bunny Barn/Turtle Tots Halloween Special' on TV.
Mumus don't let their pookies go trick or treating sometimes.
After Halloween sometimes pookies will have nightmares.
Sometimes Mumus dress up for Halloween.
Telling their duh duhs that they see dead people. (reference to Sixth Sense.)
Some pookies are scared of Halloween.
List of Halloween Costumes
Bee
Black Cat
Princess/prince
Fairy
Monster
Monkey
Deer
Mermaid/merman
Pumpkin
Horse
Alien
Shark
Gingerbread man
Bat
Spider
Fish
Squid (Space Squid or Squidzoid costume)
Snail
Ghosts (mostly non-members)
Unicorns
Skeletons
Harry Potter/Percy Jackson/Star Wars/Dr. Who Characters
Celebrities (i.e Katy Perry, Taylor Swift, Justin Bieber)
Katniss Everdeen
Their mumu
Candyman (You know? The movie? Candyman, Candyman, Candyman, Candyman, Candyman? That 70's horror movie? Really rare, but only movie nerds do it.)
Elmo
Zombie
What they want to be when they grow up
Christmas Present
Penguin Stuffie
Cleopatra or any other ancient human
Snowman (Olaf)
Clown
Superhero/villan
Candy Corn
Gnome
Fire/Water/Snow/Regular ninja
Mummy
Dora
Doge
Sonic
Roblox (Noob or Guest)