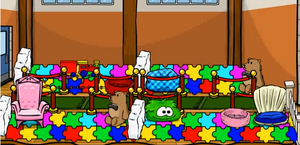 An Adoption Center is a place where pookies can be adopted. Penguins who are advertising an adoption center at their iggy can usually be found at the Pet Shop, but they are getting less and less common. Adoption centers aren't usually popular, but if the iggy where it's held is very rare, you might find tons of pookies in there.
Adoption
In the pet shop, the owner of the Adoption Center will dance and shout out "Pookie adoption center at my iggy!" or something like that.
The arrangement of the room is similar to the pictures. Some of them can be in the no-wall igloos (the no igloo button). They have chairs, toys, beds, and maybe a cafeteria. Most Adoption centers are in Pookie servers.
The mumus will do a routine like they normally do in the Pet Shop. Adoption centers allow mumus to pick pookies and choose.
Mumus or Duh Duhs will look around for a pookie and say "Spots!" when they find one. They do this in The Pet Shop as well.
Workers
There are usually 2 or 3 workers at an adoption center, however, some of them have no workers at all. It may be hard to tell who is a mumu and who is a worker, since some workers don't have the right uniform. Almost all the workers are female. This is what a uniform might look like:
Body:
Any Apron
Pet Shop Apron
Puffle Sweater
Any Other Sweater
Dazzle Dress (rarely)
Face:
Diva Sunglasses (most common)
Wide awake eyes
Diva glam eyes
Kitty cat eyes
Sparkle eyes
Sometimes even nothing!
Hats:
Feet:
Sneakers
Ballet Flats
Blue Flats
Green Sparkly Flats
Purple sparkly flats
Flip Flops
High Heels
Hands:
Lollipop
Microphone (for announcing)
Headphones
Laptop
Bracelets
Flower Basket
Purse
Cotton Candy (rarely)
The workers usually wear the color peach or brown. Some workers may be friends of the person who is running the center.
Trivia
Mostly rare penguins make adoption centers but sometimes penguins who are not rare make them. Non rare adoption centers aren't very popular because of the lack of items.
Some of them are even called 'Pookie Daycare and Adoption Center' 
Many of the adoption centers do not get visited that often.
if the pet shop is full mainly because of a mascot then the mumu/duh duh will advertise there adoption center